The Economy – Highlights
2014 started positively with just under a year of the Jubilee government. Though earners such as tourism continued to dampen economic performance, key indicators were nevertheless generally stable. And other than the Kenya shilling, showed slight improvement by the end of the year.


…

Kenya re-based its economic data from 2001 – 2009, increasing combined wealth by 25%, and making the country the 9th richest in Africa. This was achieved by capturing the contributions in new sectors of the economy, including data for the information and communications sector (Kshs.122 Billion). Whilst the re-basing increases the average per capita income to US$1,246, resulting in reclassification to a middle income status economy, in reality this does not mean that Kenyans are suddenly better off.
…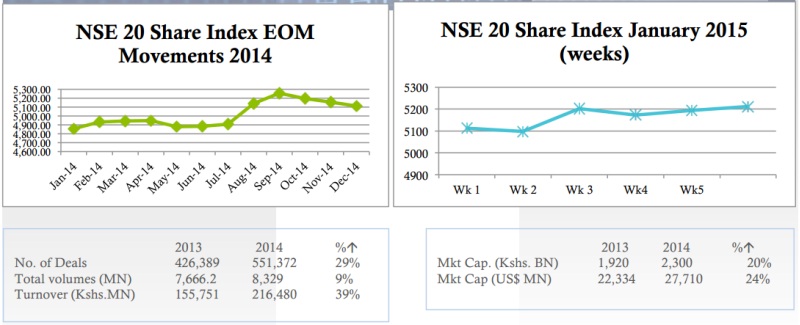 ……
Kenya's Growth Prospects (GDP) 2015
Kenya expects the economy to expand between 6 – 6.9% this year up from 5.4% in 2014. The prospect is pegged on the momentum picking up in a range of sectors such as farming, real estate and financial services. The lower growth rate of 6% is forecast by World Bank. The country has struggled to attain its true growth potential of above 6% in recent years, due to a host of challenges including political uncertainties, periodic droughts and frequent attacks blamed on Al Shabaab. A string of deadly terror attacks in Mombasa, Lamu and northern Kenya saw the tourism sector contract 14.6% in the third quarter of the year. Inflation has been stable in recent months, staying inside the government's preferred band of (2.5-7.5) %.
Lower Oil Prices has seen the reduction of pump prices within the first few weeks of 2015. Manufacturers and households are enjoying the savings. Whilst it is generally agreed to be a positive thing for the economy, there are negatives also. With the country pinning a good deal of its future on oil and gas discoveries, the oil explorers have been forced to reduce its drilling & production activities due to falling crude prices. Tullow announced plans to slash its capital expenditure for 2015. Although the company states that it plans to still focus its reduced exploration resources on East Africa.